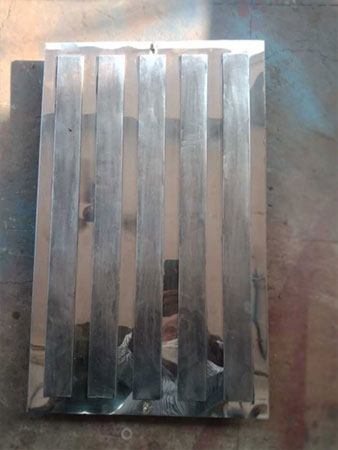 Send Enquiry
We have maintained our status as a responsible Magnetic plate Manufacturer in India offering consistent magnetic plates of optimum performance. These are manufactured either using ferrite magnets or with high energy permanent magnets placed within the magnetic circuit. The choices of magnets are as per the requirements and specifications of the customer. The process involves the attraction of the flowing iron particles when the material is fed into the machine. The magnetic field generated by the magnet penetrates the product flow and grasps the iron particles as it passes by the plate. This trapped iron particles are removed during the cleaning procedure.
Salient features :
User friendly and light weight
Simple to install and operate
Durable
Rare earth magnets are generally used
Efficient and cost effective
Compact design
Hinged models used for swing open cleaning
Magnetic surface made of SS 304/316
Magnetic plates have found their utilization in industries related to food, pharmaceutical, plastic, chemicals, minerals and ceramics. As a magnetic plate manufacturer in India we concentrate on delivering reliable and economical plates to meet the customer needs. Our quality unit ensures that the products fabricated and designed conform to international standards.